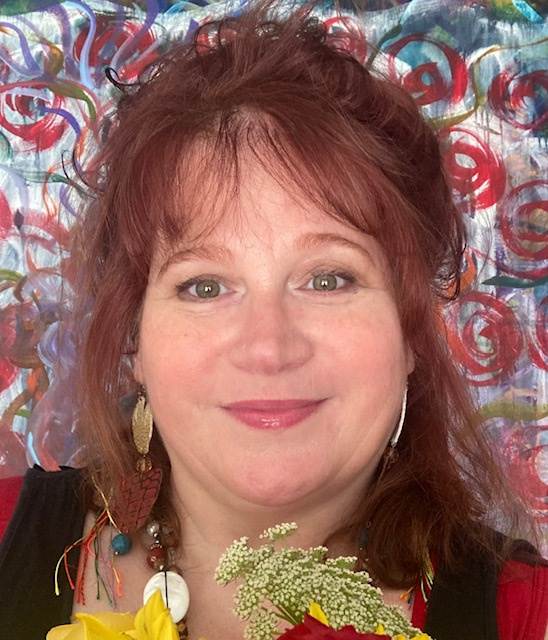 Imagine you are here for a purpose. The purpose -- to begin or continue creating and transforming your life into that of soul driven, heart centered embodiment, thriving in lieu of striving and surviving, aligned with more uplifting self-empowered thoughts and actions and vibrant eye sparkling energy.
Who am I?
I am Teri Freesmeyer. I am the creator of "Art Of Transforming Energy " , The ART Academy and a full time artist of life, leadership and The Art Doula birthing process. I have worked in the spa industry and holistic arts field for over 30 years. My experience in Massage Therapy, Sound Healing and Energy Work, motivation speaking, retreat facilitating and education has lead me on an inspirational voyage of learning, sharing, and exploring. I will be your Transformation Facilitator and Intuitive Coach on this part of your journey.
Through my never ending journey to seek "my ever deepening truth," I gratefully accept all the gifts and discoveries on my path. Those gifts and sometimes obstacles have led me here to offer an opportunity to share my enthusiasm and passion to inspire others. Are you ready?
How do I do that?
By use of intuitive, transformational and integrative bodywork and coaching; I use a variety of metaphysical skills, gifts and holistic arts. I work with individuals, partners, and groups; online and in person.
I am educated in shamanic studies, various forms of breathwork bodywork and massage, trauma informed bodywork and yoga practices, Transformational Soul Coaching, Hypnotherapy and Hypno-Coaching, vibrational life alignment practices, The Transformation Game facilitated coaching process, Energy Balancing tools, Aromatherapy, Intentional Creativity Teacher and University student, along with education, celebration, play and of course, creativity and a few more in the transformational toolbox,
I intend to inspire and assist you in giving yourself permission to create the life you desire and deserve. I can offer you my intuitive guidance and share information or I can assist you in accessing your own. Come explore my Transformation Toolbox with me and see how easy it can be. FUN TOO!
Q. What Is the Transformation Game?
A. The Transformation Game is a powerful interactive tool that provides a way of understanding and gracefully transforming the way you play your life. It is a symbolic game of life played in a small group setting or individual sessions. Join our community game the first Tuesday of each month and play your first game for free.
Q. What are Energy Balancing Tools?
A. Energy Balancing, in the sense I use it here, is a system of energy tools and techniques helpful in balancing, boosting, and influencing everything in our lives. Everything is energy. Learn to acknowledge, shift, transform, enhance, raise your energy and more.
Q. How do I find out more information?
A. Continue exploring this website for more details, links, and to get on my emailing list.